A Quality Garage Door Company Offers C.H.I Brand Garage Doors.
These doors are built to last and are simply gorgeous capable of turning any home into a beautiful home giving it "The Curb Appeal".
It is amazing what a garage door can do for your home. We have images of Styles to choose from and styles to look at with and without windows. We also have a variety of window styles to choose from to make it just the way you like it.

Long Panel Garage Door Comes in White & Almond
The 16 x 7 C.H.I Garage Door 24 Gage is a beauty and can transform any home into a beautiful home. It is a 2 Car Garage Door and this one is a long panel as you can see it contains the longer rectangles across. This model contains the "Mission Style" windows.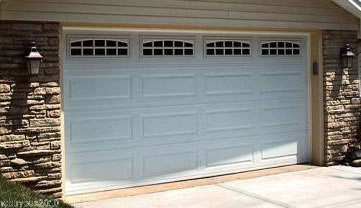 This is the C.H.I 8×7 the car garage door. This is also a short panel door with no windows. Comes in white and Almond.
Short Panel Garage Door, No Windows, comes in White and Almond colors.
This door displayed here is a 16×7 Steel Sectional Roll up style door and it is the short panel door if you see in this illustration it contains squares 5 squares down 8 across. The window style on this one is the "Stockton".